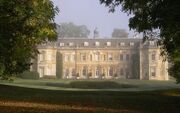 Ambrose House
is the building at which
Casterbrook
school was housed.
[1]
The building is in the Regency style, and is near Stokenchurch in Buckinghamshire.
The Folly still owns the building, but since the school closed after WWII much of the estate is rented to local farmers. The rent from the farmers pay for the maintenance.[2]
When the school, Casterbrook, was active, boys would stay out in the woods, build a campfire, and try and lure in the local supernatural, attracting many ghosts.[3]
An open-day for the Demi-monde was held in the grounds, sometime between Foxglove Summer and The Hanging Tree. Peter's father, Richard Grant, performed then.[4]
References
Edit