Black Mould is a graphic novel about Peter Grant written by Ben Aaronovitch and Andrew Cartmel, consisting of five comic books. It is illustrated by Lee Sullivan and coloured by Luis Guerrero.
The events take place between Foxglove Summer and The Hanging Tree.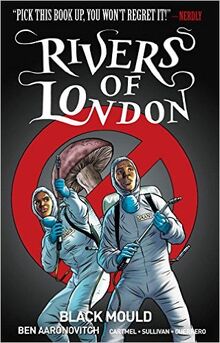 Peter's colleague, Muslim ninja and possible trusty sidekick, Sahra Guleed, has discovered a mould problem in the house of a friend. But what at first seems just a virulent fungus takes a far darker turn when the mould attacks Guleed, piquing Peter's interest and suggesting something far more dangerous...
Black Mould #1 (Breaking the Mould)
Edit
Black Mould #2 (Rumble in the Fungal)
Edit
Black Mould #3 (Forcible Eviction)
Edit
Black Mould #4
Edit
Black Mould #5
Edit
List of returning characters
Edit
Ad blocker interference detected!
Wikia is a free-to-use site that makes money from advertising. We have a modified experience for viewers using ad blockers

Wikia is not accessible if you've made further modifications. Remove the custom ad blocker rule(s) and the page will load as expected.