Body Work is a graphic novel about Peter Grant written by Ben Aaronovitch and Andrew Cartmel, consisting of five comic books. It is illustrated by Lee Sullivan and coloured by Luis Guerrero.
The events take place between Broken Homes and Foxglove Summer.[1]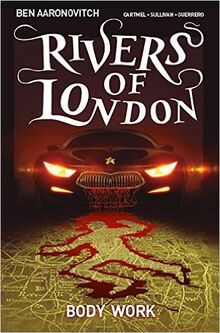 Peter's latest case involves a perfectly innocent car that is on a homicidal killing spree - without a driver. Grant managed to end the destruction with the aid of a crusher, while his boss tries to find out what the hell is going on...
Body Work #1 (Making Other Plans)
Edit
Body Work #2 (Gilded Youth)
Edit
Body Work #3 (Patient Zero)
Edit
Body Work #4 (The Old School Tie)
Edit
Body Work #5 (Designated Driver)
Edit
List of returning characters
Edit
List of characters introduced in this story
Edit
References
Edit
Ad blocker interference detected!
Wikia is a free-to-use site that makes money from advertising. We have a modified experience for viewers using ad blockers

Wikia is not accessible if you've made further modifications. Remove the custom ad blocker rule(s) and the page will load as expected.