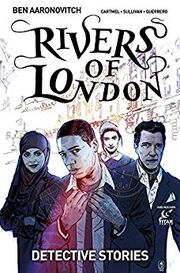 Detective Stories
is a graphic novel about
Peter Grant
written by
Ben Aaronovitch
and
Andrew Cartmel
, consisting of four comic books. It is illustrated by
Lee Sullivan
, coloured by
Luis Guerrero
, letters by
Rob Steen
.
The framing device is Peter Grant's Detective examination. The four different comic books describing separate events which take place at different times through Peter's eventful career.
The graphic novel was first published in four separate parts, and was later collected into one volume.
Part 1: Magic Circle
Part 2: Old Soldiers
Part 3: Cry Me A River
Part 4: States of Mind
Part 1: An investigation of goat cruelty on top of a tower block.
Part 2: A break-in at Apseley House, leaving (not stealing) an extra Goya behind.
Part 3: A ghost wants a murder cold-case re-opened. His own.
Part 4: Peter's first case, on probation, whilst patrolling with Lesley May. A flasher near Covent Garden.
List of returning characters
Edit
List of characters introduced in this story
Edit
Detective Inspector Chopra
Judith Hua
Francis Austin
Asif Siddiqi
Sergeant Lucy Dollard
Alison (Pearl) Mishkin
Sheila Pickingham
Tales from...
Edit
After the main story, in the first two individual comics, one-page comics are included. The subtitles are:
Also in the graphic novel:
Other Extras...
Edit
After the main story, in the individual comics, some multiple-page illustrated articles are included. Two of these are also in included in the graphic novel. Their subtitles are:
Piffle: A Spotter's Guide by Professor Harold Postmartin, DPHIL, FRS, FHSW - The Hastings Manuscript (also in graphic novel)
The Prodigious Flowering of Rage - The Art of Francisco Goya
Slough - Gateway to the West
Peelers - A very brief History of the Met (also in graphic novel)