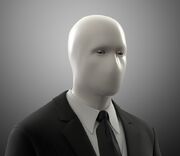 The 
Faceless Man
 (AKA the
Faceless Man, Mark 2,
Faceless One
[1]
) is the name that
Peter Grant
and
Nightingale
gave to the ethically-challenged practitioner, before they discovered his true identity during the investigation of the events at
One Hyde Park
.
[2]
He is seen as
the Folly
's most dangerous adversary by PC Grant and Inspector Nightingale.
He received his magical education by Albert Woodville-Gentle (the first Faceless Man) and uses a number of companies to cover up his activities[3], including County Gard[4], The Strip Club of Doctor Moreau[5] and The Chestnut Tree.[6] He has been active since the mid 1990s.[7]
He blew up the Skygarden Tower and the Stadtkrone.[8]
Magical powers
Edit
At one point he used his powers to influence Simone Fitzwilliam and her "sisters".[9]
He seems to know Geoffrey Wheatcroft and Jason Dunlop personally, as he calls them Jeffers and Grippers respectively.[10]
Associates
Edit
Murder victims
Edit
His identity is revealed in The Hanging Tree.
References
Edit