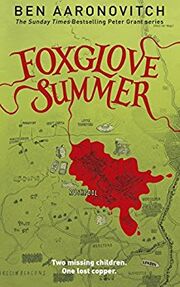 Foxglove Summer
is the fifth book in the Rivers of London series.
It's current expected publishing date is the 25 September 2014.
The book is published by Waterstones.
A case involving two missing girls takes Peter Grant out of whatever comfort zone he might have found and takes him out of London - to a small village in Herefordshire where the local police are reluctant to admit that there might be a supernatural element to the disappearance. But while you can take the London copper out of London you can't take the London out of the copper. Travelling west with Beverley Brook, Peter soon finds himself caught up in a deep mystery and having to tackle local cops and local gods. And what's more all the shops are closed by 4pm...
List of returning characters
Edit
List of characters introduced in this story
Edit
List of minor characters
Edit
DC Henry Carter
Kimberley Cidre - High Tech Crime Unit in Worcester
Sharon Pike - columnist with at cottage in Rushpool
Samantha AKA. Stan
DCI David Windrow
Albert - owner of the electronic's shop Call me Al.
An unnamed older man with an Australian accent. Some sort of connection to Mellissa.
An unnamed younger man tattooed man, with an English accent. Some sort of connection to Mellissa.
An unnamed man with an axe. Some sort of connection to Mellissa.
The Waterstones edition of Foxglove Summer contains the short story The Loneliness of the Long Distance Granny.