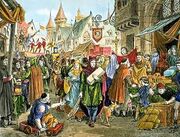 Goblin market/fair
is a market held in different places every time, catering for the
non-humans
.
Nightingale
likened it to a nazareth (police slang for some kind of illegal market)
[1]
or a shebeen, and said it had been a tradition of a
demi-monde
activity in the fringes of the old horse fairs and markets.
[2]
While researching in the Folly's mundane library, Peter Grant found a reference to Goblin Fayres and hidden markets at St. Bartholomew's feast as early as 1534.[3]
Peter and Lesley attended a market inside a Victorian terraced house on Villa Road, near Brixton.[4] Another one was at Athlone Street in Kentish Town.[5]
References
Edit