Night Witch is a graphic novel about Peter Grant written by Ben Aaronovitch and Andrew Cartmel, consisting of five comic books. It is illustrated by Lee Sullivan and coloured by Luis Guerrero, with letters by Rob Steen.
The events take place after Foxglove Summer.[1]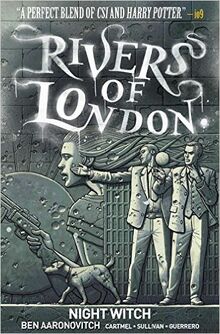 The graphic novel was first published in five separate parts, and the whole story was later collected into one volume.
Part 1: The Jump
Part 2: Home Invasion
Part 3: Roxanne
Part 4: Loco Parentis
Part 5: Sacrifices
The daughter of Russian tycoon Nestor Yakunin has been kidnapped, apparently by a Leshy, a creature from the forests of his homeland - a long way from Kent where the kidnapping occured.
List of returning characters
Edit
List of characters introduced in this story
Edit
Tales from...
Edit
After the main story, in the complete volume, five one-page comics are included. Four of them share the collected title Tales from the Folly, and one is called Tales from West London. The subtitles are:
Other Extras...
Edit
After the main story, in the individual comics, some multiple-page illustrated articles on the making of the comics and their creators are included. Their subtitles are:
References
Edit