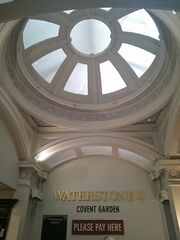 The Cockpit is a short story written by Ben Aaronovitch. It was an 'extra' in the hardback Waterstones edition of Broken Homes.
The Covent Garden branch of Waterstones may, or may not, have a poltergeist. Lesley and Peter spend the night there to investigate further.
List of returning characters
Edit
List of characters introduced in this story
Edit
Warwick Anderson
Peggy Loughliner
Ad blocker interference detected!
Wikia is a free-to-use site that makes money from advertising. We have a modified experience for viewers using ad blockers

Wikia is not accessible if you've made further modifications. Remove the custom ad blocker rule(s) and the page will load as expected.