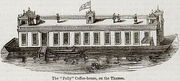 This is the History of (important dates and events) the of British Magic, not a list of Folly/Falcon related crimes.
17th Century - Sir Isaac Newton codifies the principles of magic.[2]
Early 18th Century - Caroline of Ansbach gathers intellectuals and scientists at her court.[3]
1725 - 'Society of Practitioners' disbanded.
1725-1775 - The 'Folly on the Thames', a coffee shop moored in front of Somerset House used as a meeting place for practitioners.[4][5]There is a write-up of the real Folly in British History Online.
1750s - Elizabeth Montagu holds salons, and she and her Blue Stocking friends start La Société de la Rose. The Société is open for both males and females.[6]
1760s - Members of the famed Edinburgh Club, who have been arriving in London for some time, start calling themselves practitioners.
19th of January 1945 - The Battle of Ettersberg.[8]
Middle of the 1960s - An unexplained, slow but steady increase of magical activity.[9]
References
Edit
Ad blocker interference detected!
Wikia is a free-to-use site that makes money from advertising. We have a modified experience for viewers using ad blockers

Wikia is not accessible if you've made further modifications. Remove the custom ad blocker rule(s) and the page will load as expected.