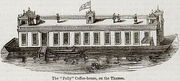 This is the History of (important dates and events) the British magic, not a list of Folly/Falcon related crimes.
17th Century - Sir Isaac Newton codifies the principles of magic.[2]
Early 18th Century - Caroline of Ansbach gathers intellectuals and scientists at her court. Among them was Phillip Boucherett, former protégé of sir Isaac Newton.[3]
1725 - 'Society of Practitioners' disbanded.
1725-1775 - The 'Folly on the Thames', a coffee shop moored in front of Somerset House used as a meeting place for practitioners.[4][5] There is a write-up of the real Folly in British History Online.
1750s - Elizabeth Montagu holds salons, and she and her Blue Stocking friends start La Société de la Rose. The Société is open for both males and females.[6]
1760s - Members of the famed Edinburgh Club, who have been arriving in London for some time, start calling themselves practitioners.[7]
1775 - The Folly is established and relocates to the house at Russell Square.[8] They call themselves the Society of the Wise.[9] Women were not allowed.[10]
1812 - After the Treaty of Ghent, British practitioners abandoned the alliance they had formed with the Tecumseh's Confederacy. Before that they had learned Tecumseh's medicine men some Newtonian magic.[11]
19th of January 1945 - The Battle of Ettersberg.[12]
Middle of the 1960s - An unexplained, slow but steady increase of magical activity.[13]
2012 - The Folly gets its first official apprentice since before WWII.[14]
References
Edit