Cecelia Tyburn Thames aka Ty, Lady Ty.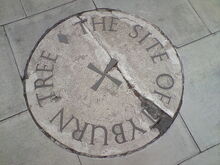 Lady Ty, described as "stuck up", is ambitious, politically minded and manipulative. She seeks power and resents interference in the affairs of the river spirits, especially by human authorities and she is not averse to using her magical power and political influence to achieve her ends. She is however obedient to her mother although it is thought she might have an eye on the throne of Mother Thames for herself.
She has a degree in History and Italian from St. Hilda's College, Oxford. She lives in Chesterfield Hill, Mayfair, with her civil engineer[1] husband ,George McAllister-Thames,[2] and two children. A eighteen-year-old son called Stephen George McAllister-Thames[3], and a daughter called Olivia Jane McAllister-Thames.[4]
Tyburn owns properties on Fitzjohn's Avenue in Hampstead[5] and on Chesterfield Hill in Mayfair.[6]
Sir William of Tyburn
Edit
The original spirit (sir
William of Tyburn
[7]
), one of the sons of
Father Thames
, died as a result of the pollution of the Victorian era (during
the Great Stink
in 1858). Later, as the pollution cleared, the river became inhabited by Lady Ty, one of
Mother Thames's
court.
[8]
Peter have met this version of Tyburn twice, or so he thinks. The first time was when he was stuck under a platform at Oxford Circus Underground Station[9], and the second time when he was following Reynard Fossman through Green Park.[10]
Tyburn may also have been responsible for the flood of water outside Lady Ty's house, when she almost wa assassinated. If so, he was probably also seen by a David Hantsworth.[11]
Tyburn Gallows
Edit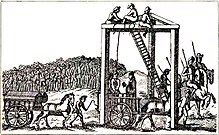 For many centuries, the name Tyburn was synonymous with capital punishment, it having been the principal place for execution of London criminals and convicted traitors. The Tyburn gallows stood in the middle of the roadway, providing a major landmark in west London and presenting a very obvious symbol of the law to travelers.
In 1571, the Tyburn Tree was erected at the junction of today's Edgware Road, Bayswater Road and Oxford Street, near where Marble Arch is situated today. The "Tree" or "Triple Tree" was a novel form of gallows, consisting of a horizontal wooden triangle supported by three legs which allowed several felons to be hanged at once. The title of the book The Hanging Tree is a reference to this structure.
The Chestnut Tree
Edit
References
Edit